Scan2Lead COLLECT Upload Guide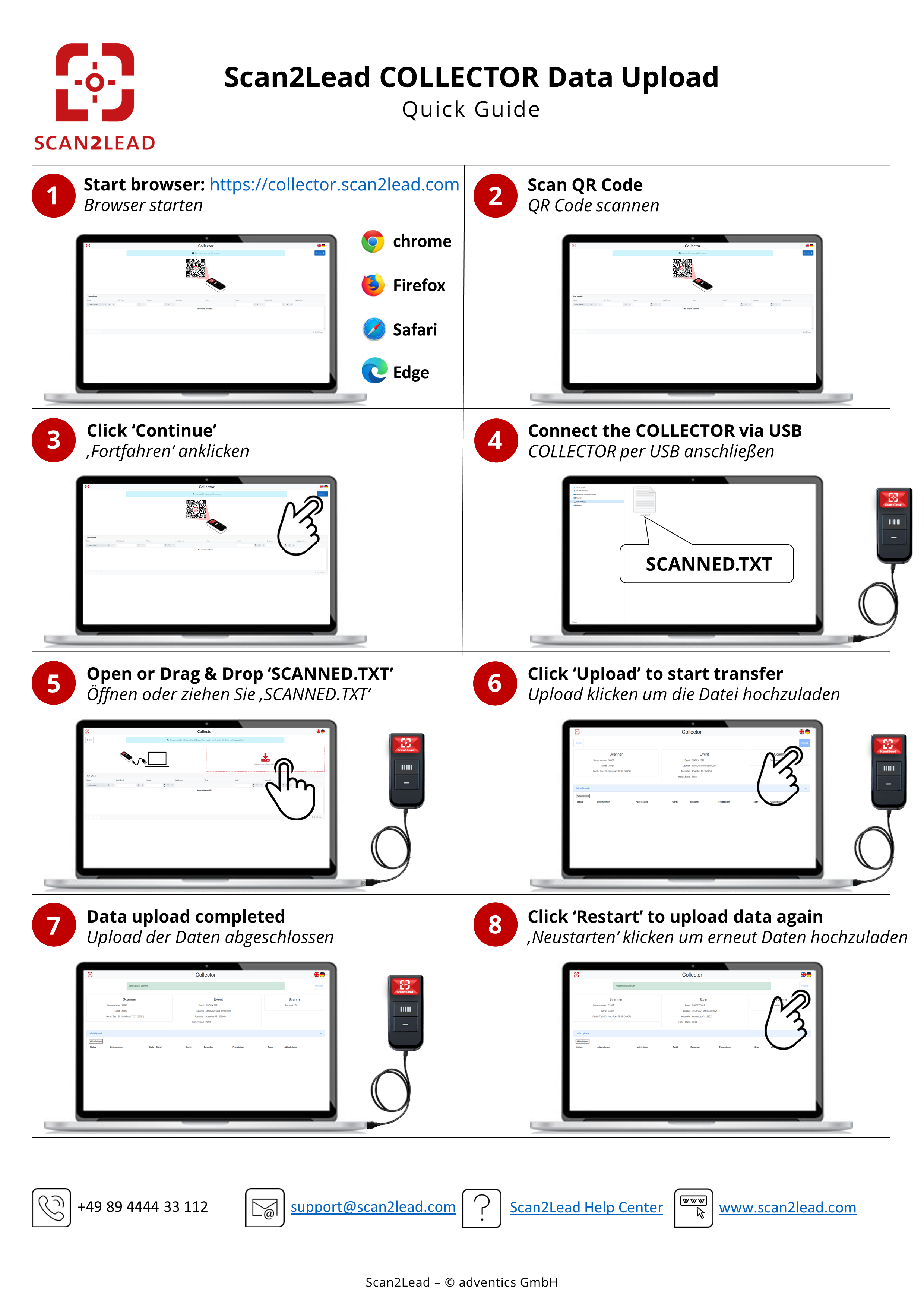 Related Articles

Quick Guide Scan2Lead COLLECT

Scan2Lead COLLECT Quick Start Pick up your device at the Scan2Lead service desk. To manage and export the captured visitor data, login at the Scan2Lead PORTAL

Can I use the Lead Form with Scan2Lead COLLECT?

When you are capturing visitor data, using Scan2Lead COLLECT you are able to add Lead Form information by scanning barcodes from a printed Lead Form right after scanning the visitor badge. In the Scan2Lead PORTAL: go to Menu 'Configuration' - ...

How many questions / answers can I place on the lead form for Scan2Lead COLLECT

When using the lead form for Scan2Lead COLLECT there is space for 4 columns and 8 barcodes per column, so 32 tags in total on one A4 page. Note: each question means a header, reducing the barcodes per column.

How do I upload my company logo?

The logo which will be shown at the bottom of your Scan2Lead InfoPoint App can be uploaded to the Scan2Lead PORTAL by your organizations' portal-admin. The needed upload-tool can be found in the menu under 'Configuration' -> 'InfoPoint Settings'. ...

How do I modify the Lead Form?

Using the Scan2Lead PORTAL you will find Menu 'Configuration' - 'Lead Form' to verify the existing Lead Form. A standard Lead Form as listed below, is the starting point for your modifiations. Note: Modifiying Questions and Answers influences ...