How can I get test badges?
To be able to test the visitor badge scanning, you can download test badges for the specific show, your account is assigned to. The test tickets are available for download directly on your Scan2Lead PORTAL start page.
To access the start page click on the Scan2Lead logo located at the top left of your screen.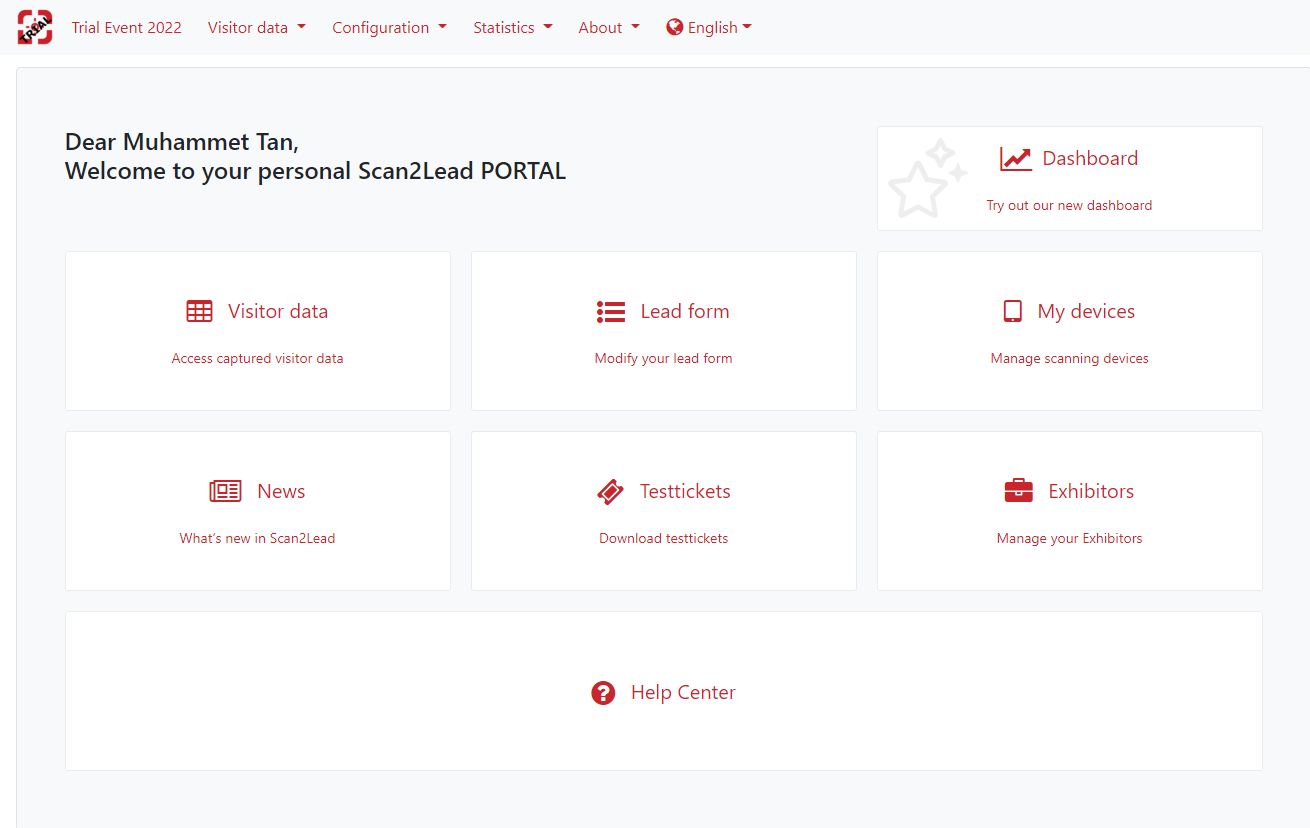 Related Articles

How to scan visitor badges with Scan2Lead SMART

In order to start scanning visitor badges please select the Event/Exhibition you are attending to. Tap the Event/Exhibition you want to enter. For example 'Trial - Event 2020'. Once you enter the Event/Exhibition tap on the 'Barcode' and scan the ...

Can I use the Lead Form with Scan2Lead COLLECT?

When you are capturing visitor data, using Scan2Lead COLLECT you are able to add Lead Form information by scanning barcodes from a printed Lead Form right after scanning the visitor badge. In the Scan2Lead PORTAL: go to Menu 'Configuration' - ...

Is it possible to integrate Scan2Lead with our own lead-system?

If you are using your own lead-system to capture visitor data by scanning barcodes from the visitor badges, Scan2Lead offers a RESTful API for integration. A RESTful API (Application Programming Interface) is a programing interface, using ...

How do I modify the Lead Form?

Using the Scan2Lead PORTAL you will find 'Configuration' - 'Lead Form' to verify the existing lead form. A standard lead form as listed below, is the starting point for your modifications. Note: Modifying questions and answers influences already ...

Can I copy a lead form used at a previous exhibition?

In order to copy an existing lead form within the same Scan2Lead PORTAL (same email address) login with your credentials at the Scan2Lead PORTAL select menu Configuration and click Lead form click the Import / Export Button on the left side select ...