How can I edit visitor data at the Scan2Lead STATION?
Choose the visitor you'd like to edit from the list

Choose the tab (on the right) you want to make changes to - Person, Address, Lead Form, Notes and add the changes. Your changes will be saved automatically.
The 'Notes' tab allows to store free text with at least 1.000 characters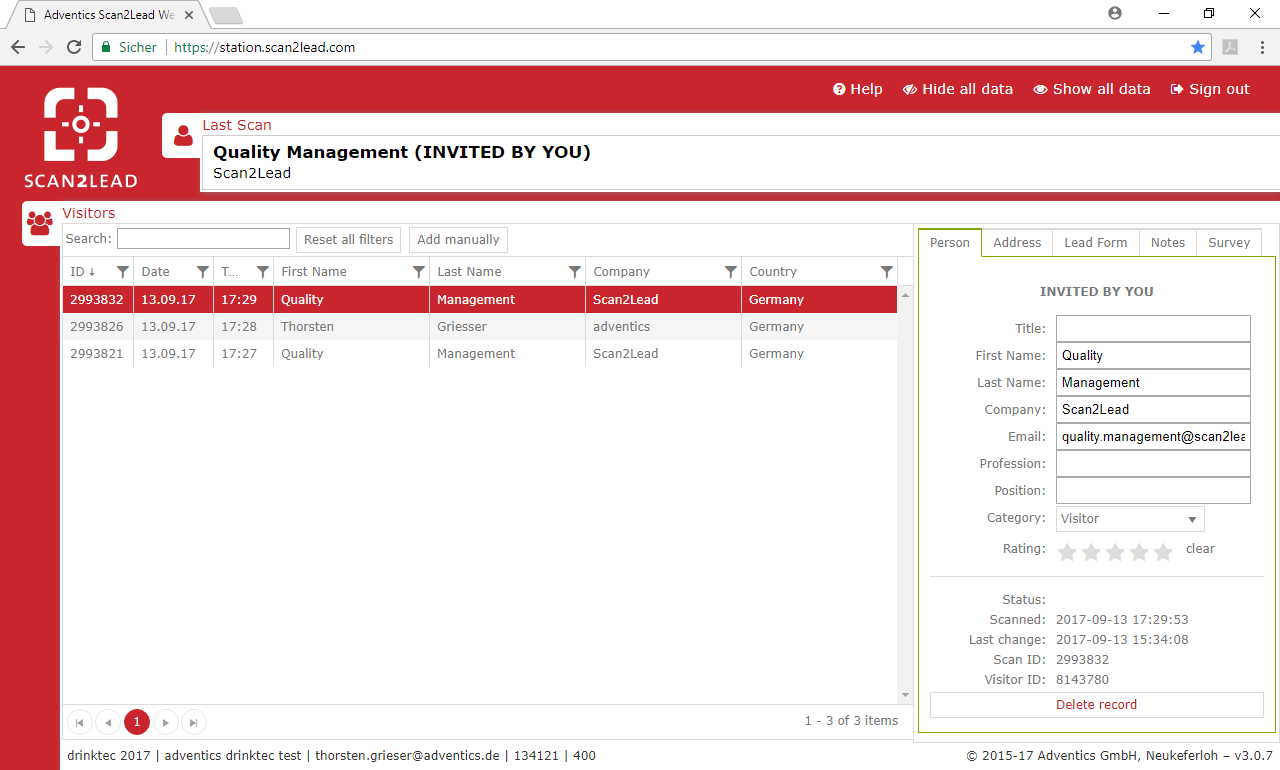 Related Articles

Can I use the Lead Form with Scan2Lead STATION?

Using the Scan2Lead STATION allows you to add the required lead form data to the visitor data directly at the screen. Click on the visitor from the list you want to edit choose the Lead Form tab (on the right) As soon as an answer is selected, or ...

How can I edit or delete visitor in Scan2Lead PORTAL

Edit visitor data Go to Scan2Lead PORTAL and click on 'Visitor Data' - 'Visitor Data' to see the list of the captured visitors select the visitor data you want to edit by clicking on the name Use the 'Edit' function the details of the visitor are ...

How do I use Scan2Lead STATION?

Scan Visitor Data After starting the Scan2Lead STATION link station.scan2lead.com in your browser and scanning the QR-Barcode from the screen, you will be automatically signed in. Your Scan2Lead STATION is ready to use. The main screen displays the ...

How can I export visitor data from the Scan2Lead STATION?

You do not have an export functionality at the Scan2Lead STATION, as all solutions for capturing visitor data synchronize the captured data to the central online portal Scan2lead PORTAL The Scan2Lead PORTAL is the central administrative site for ...

Why do I see empty Visitor data records?

Different circumstances may result in empty visitor data. Find below possible reasons. No Internet connection One of the main reasons why scanned badges result in empty data. Manually added visitor (SMART & STATION only) Another reason for empty ...