How can I edit or delete visitor in Scan2Lead PORTAL
Edit visitor data

Go to Scan2Lead PORTAL and click on 'Visitor Data' - 'Visitor Data' to see the list of the captured visitors

select the visitor data you want to edit by clicking on the name


Use the 'Edit' Funktion
the details of the visitor are displayed and can be edited

to save the changed data, click the save button

Hint: the updated data record will be automatically synchronized with the frontend devices Scan2Lead STATION and Scan2Lead SMART.

Delete visitor data
Go to Menu 'Visitor Data' - 'Visitor Data' to see the list of captured visitors.

select the visitor data you want to delete by clicking on it.


click the delete button and confirm with yes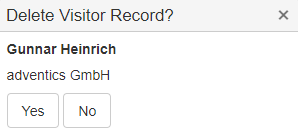 Hint: the deleted data record will be automatically removed from the frontend devices Scan2Lead STATION and Scan2Lead SMART.
Related Articles

How can I edit visitor data at the Scan2Lead STATION?

Choose the visitor you'd like to edit from the list Choose the tab (on the right) you want to make changes to - Person, Address, Lead Form, Notes and add the changes. Your changes will be saved automatically. The 'Notes' tab allows to store free text ...

How does the visitor data export file look like?

When exporting visitor data from the Scan2Lead PORTAL an excel file named Company Name - VisitorData_YYYY.MM.DD_HH.MM.SS.xlsx is downloaded to the local download folder of your PC. Note: The export includes all listed visitor data. In case a filter ...

How do I modify the Lead Form?

Using the Scan2Lead PORTAL you will find Menu 'Configuration' - 'Lead Form' to verify the existing Lead Form. A standard Lead Form as listed below, is the starting point for your modifiations. Note: Modifiying Questions and Answers influences ...

How can I export my visitor data?

To download your visitor data login with your credentials at the Scan2Lead PORTAL select menu Visitor Data and select Visitor Data Click the Button Export to Excel to download the list of displayed visitors Once the download has finished you will ...

Will you send us the captured visitor data via e-mail?

Scan2Lead PORTAL is the central administrative site for managing, exporting and evaluating your visitor data. All captured visitor data is synchronized to the central online Scan2Lead PORTAL accessible by using any standard browser.