How can I add attachments in Scan2Lead SMART App
Scan2Lead SMART offers the option to add attachments to visitors. You can use your mobile device camera to capture a Photo or add an existing picture to the visitor.

How do I add attachments?

Start Scan2Lead SMART

Select an existing visitor or add a new one

Scroll down until you reach the field 'Attachments'

Tap the "+" sign and choose between 'Camera' or 'Library'

Capture or select the picture you want to attach

You can add notes to the attachments aswell

Once you confirm your selection it will be added to the contact automatically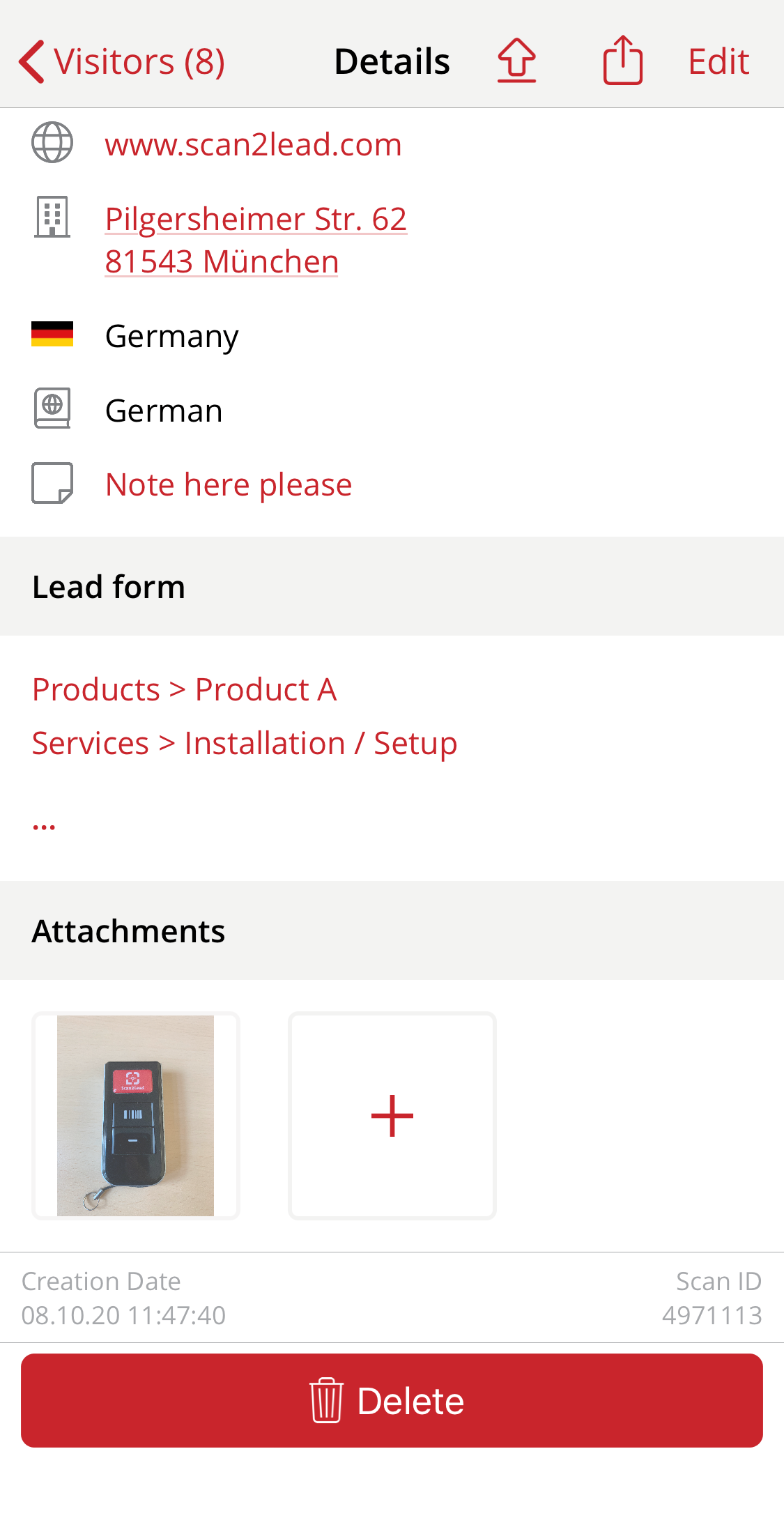 Related Articles

How can I manually add a new visitor with Scan2Lead SMART

With the Scan2Lead SMART app, you are able to add new contacts manually. Simply choose your Event and tap on the 'Visitors' button. Once entered the Visitors page you will find a Button which will display an empty visitor record. Tap on the empty ...

How to scan visitor badges with Scan2Lead SMART

In order to start scanning visitor badges please select the Event/Exhibition you are attending to. Tap the Event/Exhibition you want to enter. For example 'Trial - Event 2020'. Once you enter the Event/Exhibition tap on the 'Barcode' and scan the ...

How can I scan a business card with Scan2Lead SMART?

With Scan2Lead SMART you are able to create a new contact by scanning a business card. You can also add a business card to an existing contact. The integrated OCR-Service (Optical Character Recognition) will process the business card and add the ...

Start your Trial with Scan2Lead SMART app

Once your registration is completed you can request a trial license for free in order to test and work with the Scan2Lead SMART app. All functions included in the application are available for use however for the trial you do have a limited amount of ...

How can I add notes to the visitor data in Scan2Lead SMART

Scan2Lead SMART offers also the option to add notes to your visitors data. Select the desired event and visitor and tap the Button to enter your Notes. Add your notes and press the ' <Details' button when you are done. Hint: Your entered notes will ...